---
Ride Along With
---

Aw..Come On, Get In Take a ride in a Big Truck. Let me show you
what I do, what I see, and how I feel.
I haul aggregate fancy name for sand, rock & gravel,
(and a lot of dirt to building sites.)
My tractor well, Okay, Okay! owned by my boss,
(the man has good taste in trucks)
is a '98 Kenworth conventional
The trailer I pull is called a belly-dump.
The trailer is loaded at the top,
I dump it by opening the gates on the bottom.
I used to drive OTR (Over-The-Road)
This is better, I'm home every night.
Hey, let's get out of town.....


---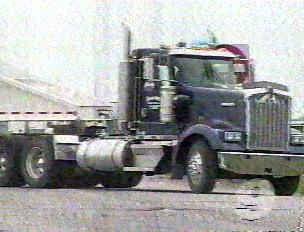 (This pic doesn't do her justice)
---

Time To Rock-n-Roll...

(This Page Is No Longer Entirely Accurate
I'm back to OTR part time - Local part time
Depends on weather & amount of construction going on)